With Toki Tori 2 nearly finished, and the team busy sweating the details, Collin asked me, Niels, to highlight a couple of the game's characteristics in blog form.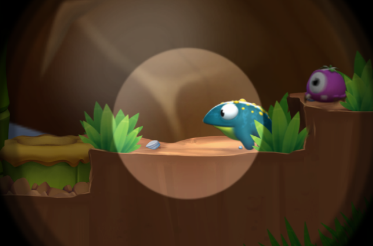 In this post, I want to discuss what Two Tribes is doing with the unique possibilities of the Wii U.
Play on the GamePad
First of all, you can play all of Toki Tori 2 on the GamePad's screen. So if your significant other wants to watch a movie, or if you're too lazy to turn on your TV, that's possible.
Unlike some other games, we don't mirror the two screens: you either play on your TV or on your GamePad, and you can switch between them with the Select button or via the options menu. If you ask me, this is a big pro: I loved New Super Mario Bros. U, but when I wanted to play on the TV screen, my eyes were constantly drawn to the GamePad. I was happy to hear this won't happen when playing Toki Tori 2!
This setup also makes it possible to display some extra info on the GamePad when playing on the TV, similar to what many Nintendo DS games do. For example, it will show where Toki Tori is in the current scene, as well as the songs you've discovered so far.
Tokidex Camera
When we announced the Wii U version of Toki Tori 2, we also revealed the Tokidex. Collin then described it like this:
The Tokidex feature allows you to scan the area around Toki Tori for creatures and objects by using the Wii U Gamepad as a virtual camera with a viewfinder. Any creatures photographed will be added to the Tokidex. It's quite fun to do, especially with creatures that move quite a bit!
Guess what? All of this is still true. The Tokidex Camera is a fun little feature, reminiscent of golden oldies like Pokémon Snap. There are almost 40 pictures to shoot and it's a bit of a puzzle to figure out which objects are 'snappable'. Finding everything unlocks a nifty easter egg*.
*Not an actual egg.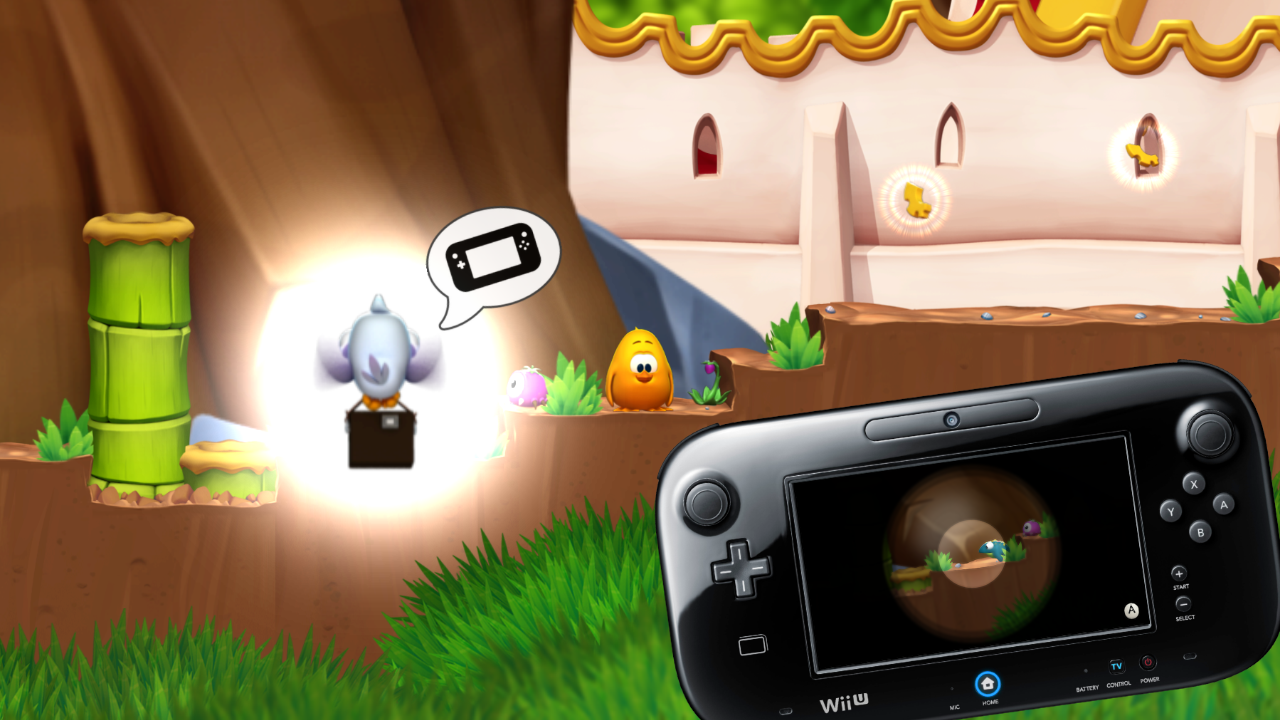 Tokidex in action
Aside from these features we also use the touch screen in smaller ways, such as placing pins on the world map or navigating the pause menu quickly.
The future
The possibilities of the Wii U really stir the team's imagination, so you can bet they're thinking of other ways to use the Wii U. And some of that will likely be added in updates down the road.
First of all, the level editor. As you'll know if you're on the Steam alpha list, the editor we use to make the game is pretty darn powerful. We'd love you to be able to create your own puzzles, and the Wii U GamePad lends itself to this pretty well. Just look at the preliminary version we show in our Wii U Trailer. It works deliciously!
Some of you will expect the editor to be available at launch: unfortunately, it's quite a challenge to make a level editor accessible and fun to use. At this point, we'd rather use the time and energy required to polish the core game. But we'll get around to it later on!
This ties in with the next Wii U feature we want to tackle. We're really enamored with MiiVerse, and want to integrate it into Toki Tori 2. Of course, there will be a Toki Tori 2 community, but otherwise, we're waiting to see what else will be added to the service. What if you could create levels with the editor, then share them via MiiVerse and allow others to open them with a single click? What if this could tie in with levels created in the Steam version? All of this might come true!