We've collected information we think you may need to write about Toki Tori 2+. Let us know if you miss anything and we'll add it!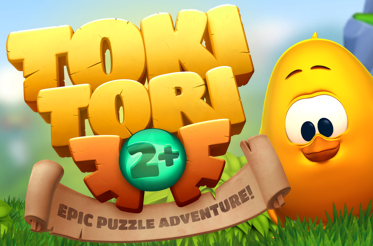 Who's Two Tribes?
Two Tribes is one of the oldest game developers in The Netherlands. Our games overview should give you an idea of the games we've created. In 2016 we announced that the action game RIVE would be our last original project. We're still supporting our existing games and fans though!
What's a Toki Tori?
Toki Tori was the first game ever released by Two Tribes, in 2001 on Game Boy Color. It was a level-based egg collection puzzle platformer starring a cartoon chicken, that was remade into a WiiWare launch title in 2008. It's appeared on many platforms since, including PC, Mac, PlayStation 3, iOS, Android, Wii U and Nintendo 3DS.
How did Toki Tori 2 come about?
Toki Tori 2+ was the first game in years that we made without a publisher looming over our shoulders. We worked on it as long as necessary to really make it shine, and we wanted it to be a completely different experience than the first Toki Tori. To achieve this goal, we formulated a bunch of rather bold principles.
Starting off, we wanted a large open world without any traditional puzzle items. Our chicken hero has just two moves, whistle and stomp, with great complexity arising from that simple core. The world opens up as you learn more about its creatures and other characteristics, meaning that inquisitive players can go anywhere, anytime, right from the start, while less experienced players can simply follow the game's flow.
To raise the stakes even further, we wanted everything in Toki Tori 2 to speak for itself, literally. The game's story is told through interactive in-game setpieces that never take the controls away from the player. And even though we've added some telepathic frog messages since the initial release, you still have to figure out most of it by yourself, through experimentation.
What's up with the plus in Toki Tori 2+?
After the initial Toki Tori 2 Wii U eShop release in 2013, we spent a lot of time making the game better for its Steam release. In fact, it got so good we felt the title should reflect it. Of course, we kept improving Toki Tori 2, for the PlayStation 4 release and now for the Nintendo Switch release, but somebody in management kept us from adding more plusses to the title.
Where can I play Toki Tori 2+?
The game was released on the Wii U eShop on April 4, 2013, on Steam on July 11, 2013, on the PS4 PlayStation Store on February 23, 2016, and now on the Nintendo Switch eShop on February 23, 2018.
Tell me about Toki Tori 2+: Nintendo Switch Edition!
Experience Toki Tori's Epic Puzzle Adventure on the go, for the first time ever!
Explore an enthralling forest island, learn magical songs and interact with the local wildlife to solve environmental puzzles.
Toki Tori 2+'s ingenious game design requires just two moves: whistle and stomp. It's super accessible, yet it builds up to incredible complexity later on.
There's a ton to do, too. After puzzle-solving your way to five Ancient Frogs and saving the island from a strange pollution, you can still find 100s of golden wings, snap dozens of creature pictures and go Achievement hunting.
Toki Tori 2+ is better than ever on Nintendo Switch, with lots of gameplay tweaks and even some new secrets and puzzle solutions. Plus, you can now create checkpoints wherever you like, allowing for easy experimentation.
A unique take on the Metroidvania formula
Follow the path, or stray off-road and tackle the expert puzzles
Whistle magical songs to rewind, fast-travel and more
Snap dozens of Tokidex creature pictures
Better than ever on Nintendo Switch:
Tweaked gameplay, new secrets and solutions
Buttery smooth graphics at 60 fps
Featuring in-game Achievements
HD Rumble support
Video capture support
For more information, check out the Toki Tori 2+ website.
Screenshots
Download all art, screens and trailers from Dropbox





Logo
Download all art, screens and trailers from Dropbox

Artwork
Download all art, screens and trailers from Dropbox








Trailer