If you ran into EDGE in a bar, he'd have some amazing stories to share, and they'd all be true!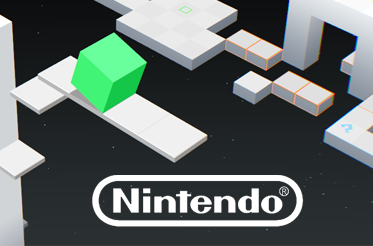 Born as a humble 2D dumbphone game, conquering the iPhone at a young age, being attacked by patent trolls, moving from France to the Netherlands to be taken apart and reassembled into full 3D… this guy's been through a lot.
His latest and probably last step before retirement is to move into Nintendo territory. Starting today, EDGE is also available on Wii U through the Nintendo eShop, with a 3DS version following soon!
EDGE has a massive amount of levels, including the free EDGE Extended DLC and Bonus levels from the Steam version and it runs in glorious 1080p with anti-aliasing at 60 frames per second.
Best of all, it's available for a limited time for just $1,99 / €1,99!
Trailer


Nintendo 3DS!
EDGE feels so at home on this new platform that he decided to make the move to Nintendo 3DS as well, which will hopefully happen before the end of the year. We've developed the 3DS version together with Cosmigo and below are the first screenshots, taken directly from the 3DS version. You may notice the smooth anti-aliased graphics, which are available in both 2D and 3D modes and makes the game look super delicious!
Both versions are identical in content.