The Mac App Store has just been launced today and already people are reporting sightings of our little yellow feathered chicken: Toki Tori!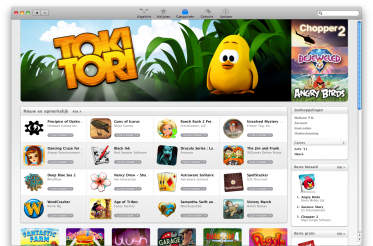 Today, January 6th 2011, the Mac App Store has opened its doors and we're proud to announce that Toki Tori is part of the launch! For those who don't know anything about Toki Tori, a small introduction:
The gameplay in Toki Tori is a blend of two genres. While it looks like a platform game, it's a puzzle game by heart. Players will have to look and plan ahead carefully while using a variety of items, such as the Telewarp, Freeze-o-Matic and InstantRock™ to name but a few.
Get Toki Tori for Mac App Store here: http://bit.ly/tokitori_mac
Trailer below!