Our little feathered yellow chick, Toki Tori, first saw the light of day in 1994. Back then Toki was called 'Eggbert' and the game was released for the MSX system.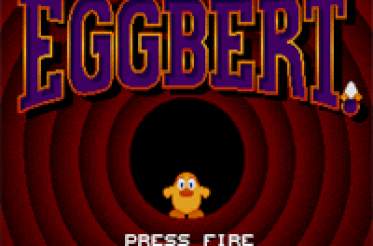 Our creative lead, Collin van Ginkel, designed the character and game and sold it at our high school and at local conferences, complete with funky hand drawn box art. If you look on Google or eBay I'm sure you are able to pickup some of the original MSX floppy disks.
A few years later, around 1998, we were starting to experiment a bit with homebrew development for the Gameboy Color (GBC) system. We bought ourselves a couple of flashcard systems and started coding and experimenting. After creating some tech demos we decided to try to recreate Eggbert for the GBC.
Our goal was very ambitious; the game had to look like no other GBC game out there. We wanted it to be technically outstanding while still having great gameplay. After two years of development in our spare time we finally had something we could present to publishers.
Fortunately we knew an American entrepreneur who was willing to take on Eggbert to the E3 of 2000. So with no official dev status we managed to sell the game to Capcom. We quickly learned that we had to change the name from Eggbert to something else for legal and marketing reasons. So we sat down in a local shawarma restaurant and came up with a bunch of names, of which Toki Tori was finally picked by Capcom. And so Toki Tori was born…
When Toki Tori was released for the GBC in 2001, its timing was a bit unfortunate. We're not entirely sure how many of the original Toki Toris were sold, but since the Gameboy Advance was already released, there was a big pressure on the GBC market. GBC titles were dropped massively in favor of GBA titles.
So we always felt that Toki Tori deserved another chance. We initially tried to create the game for some mobile phones and even had a publishing deal with THQ Wireless. Unfortunately project "little mobile chick" got canned before it even saw the day of light on the mobile phone.
Meanwhile Two Tribes went on and focused on mobile phone and console development, with titles such as Worms World Party for the Nokia N-Gage, Garfield 2 and Worms Open Warfare 2 for Nintendo DS.
It wasn't until 2007 that we got renewed interest in our old franchise. We noticed that downloadable services such as Xbox Live Arcade and the just announced WiiWare offered small developers a chance to present their games to a large audience of console owners, without having to go through a publisher. When WiiWare was announced we shifted into high gear to be able to make it for the launch of the service.
About nine months later our yellow chick re-hatched, just in time for the European launch. The US launch of Toki Tori followed two weeks later.
Since then Toki Tori has received great response from users all over the world and it received excellent reviews from respectable review sites, ranking 79% at Metacritic. Toki Tori even has his own YouTube fan site, created by two enthusiastic Americans who played through the complete game and recorded all solutions. It's these things what makes being a developer worthwhile!
Not long after we finished the WiiWare version we decided to investigate whether or not Toki Tori would work on an iPhone/iPod Touch and did some initial testing. We noticed that the iPhone was less powerful in the graphical department as compared to the Wii. We also had to completely redesign the controls and had to reduce the WiiWare size of around 38 MB to a size below the 10 MB limit 3G imposes. Getting rid of 28 MB without losing too much quality wasn't exactly an easy task.
But we managed to resolve most of these problems and are confident that we have created a great rendition of Toki Tori for Apple's platforms. "To get more information about Toki Tori, please check www.tokitori.com or our YouTube channel.