On December 20th, we will release Toki Tori 2 on the Wii U eShop!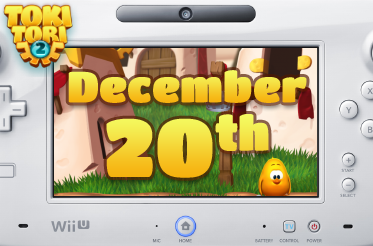 We have been a bit quiet lately, but that doesn't mean we haven't been working our collective behinds off. We had hoped to be able to hit the Wii U launch, but we're simply not there yet, so we're taking our time to make sure the game lives up to our standards.
December 20th is the date we've chosen to release the game, meaning our Nintendo fans will be able to play the game during their Christmas holiday! To celebrate we've released new screenshots, which you can find below.
Much can change in the course of a year. The game's coming out on Wii U first, but when we started developing Toki Tori 2, we initially announced it for Steam. This switch was never officially addressed, and we want to give you a bit of insight into how this came to be.
Since we're a relatively small indie studio, a lot is riding on the success of Toki Tori 2 for us. We have spent well over a year with everyone at Two Tribes on this single project, which means Toki Tori 2 will be the only source of income for a while to come. When Nintendo announced their plans for the Wii U, we decided early on that the game needed to be on that platform, but it wasn't until we noticed that our completion date and the Wii U launch date aligned that we made the call.
Making something for a console launch has several benefits from a development and business standpoint. You don't have to support a wide range of configurations as you would need to on Steam, meaning we can release earlier after we finish the game. And business-wise, it makes a lot of sense to be available at or around launch, since players are very eager for new things to play on their new devices.
We'll take a much deserved short break after the Wii U release and work full force on the Steam version after that. We hope our Steam fans, that have helped us out immensely by testing the development builds will stick with us as we make a great PC and Mac version after our short break.
Closing off, we've got the new logo. What do you think?