Our latest Toki Tori 2 trailer makes it official: Toki Tori 2 is coming to Wii U too!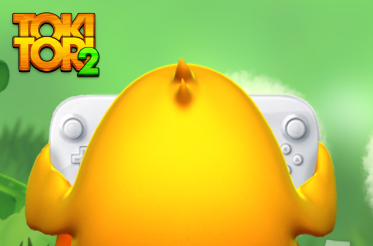 As you may remember, the original Toki Tori's modern remake was first released on WiiWare, so it makes a lot of sense to launch Toki Tori 2 on a new Nintendo machine.
Previously our game was running on the PC and Mac, but we've now reached a point where almost everything we've got in the game is running beautifully on Wii U as well.The only big feature we need to add is the audio, which should be done in a week or two.
Check out the brand new trailer below to see the game in action.

With that out of the way, the time comes to start looking at the unique aspects of the new controller. To be honest, there are so many options, it's quite overwhelming! Toki Tori 2 is a platform game, so it makes total sense to use the stick and button controls. But we'll be using the gamepad for a feature that we super-recently added to the game: the Tokidex!
I need to push Hessel to write a blog about it, but in the mean time here's a short explanation: The Tokidex feature allows you to scan the area around Toki Tori for creatures and objects by using the Wii U Gamepad as a virtual camera with a viewfinder. Any creatures photographed will be added to the Tokidex. It's quite fun to do, especially with creatures that move quite a bit!
The PC version of Toki Tori 2 will be playable on Gamescom on the Steam Booth and PAX Seattle as well. We've got a nice little demo prepared for people who'd like to try it out, and if you want you can help us make that demo even better by enlisting for the Toki Tori 2 development builds.
Questions? Ask below!