Pssst… Toki Tori 2 just got a little upgrade…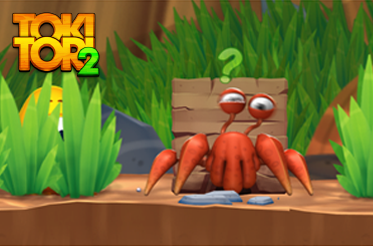 With the help of all those who sent feedback to us, we managed to create a great looking build that doesn't look anything like the previous development build we released two weeks ago. So to all a big warm thanks from Two Tribes for your feedback, videos, suggestions and bug reports!
The build that we released today, is the one that we are showing to the press on the Game Developers Conference (GDC) that is currently being held in San Francisco. Last Sunday we attended the Indie/Press Mixer, held at IGN's offices and demonstrated Toki Tori 2 to the press and we definitely got some positive feedback there! More Toki Tori 2 press encounters will follow this week…
So what did we change? Apart from the most obvious changes, the visuals, we fixed a boatload of bugs, added animations, tweaked movement, added dynamic lighting and shadows, added flowing water, more sound effects and… well… do I need to say more? The best way to experience the changes, is by updating Toki Tori 2 and enjoy it yourself!
If you are not already part of the Toki Tori 2 beta, simply join now!
As always, your feedback, video walkthroughs, bug reports and dirty laundry are more than welcome. You can send them to .(JavaScript must be enabled to view this email address)
SPOILER ALERT! Video of the latest build below. Please do not click on it if you have yet to play through it!