Update: new pricing details based on community feedback.
We're close to finishing up Toki Tori 2+ for Steam. Here are the launch details!
11th of July!
In a time honored Two Tribes tradition, we've decided to launch the game a bit later on the 11th of July instead of the 2nd as previously announced.
Scheduling-wise it made more sense to go for the 11th, and we're going to use the extra week to do some more play testing and bug fixing.
Launch Discount!
After much deliberation, we've decided not to go for a pre-order system, but will reward first day customers with a higher launch discount instead.
Loyalty Coupons!
Since we love people who love us, we're handing out loyalty discounts in the form of coupons for players who own one or more of our previous games on Steam. It's our way of saying THANKS for supporting us since we moved to Steam three years ago!
Price!
EURO
€13.99
USD
$14.99
GBP
£11.99
South / Eastern Europe
€10.99
Rubles
299p.
CIS
$9.99
BR Real
R$24.99
Please note that this price is excluding the launch discount and potential loyalty coupon discount!
Big Picture Mode!
Toki Tori 2+ can be fully enjoyed in Big Picture Mode with the Xbox 360 gamepad from the comfort of your lazy couch.
Trading Cards!
Yup! We're making use of one of the most recent additions to Steam. Toki Tori 2+ will drop trading cards during gameplay, which you can then collect and craft thingies with!
Mac and PC!
We support Steam Play, so the game can be played on your Mac and your PC with a single purchase. Linux support is being looked into, but will definitely not be available at launch.
Hardware Requirements!
Minimum Requirements
DX10 GPU with 512 MB dedicated VRAM
Windows 7 / Mac OS 10.7
2 GB RAM
Harddisk Space 1 GB
Intel Core 2 Duo or comparable
Recommended Requirements
DX10 GPU with 1024 MB dedicated VRAM
Windows 7 / Mac OS 10.8
4 GB RAM
Harddisk Space 1 GB
Intel i5 or comparable
New Screenshot!
Here's a screenshot that shows off new artwork and the new 1920x1200 resolution rendering.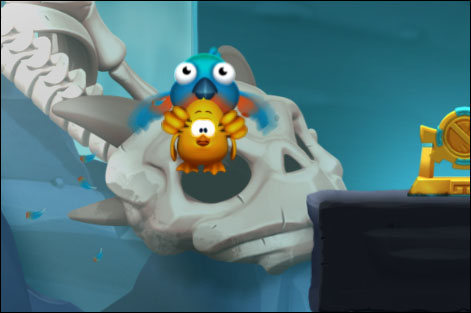 Did you know that there is a close relationship between birds and dinosaurs?
More info on Toki Tori 2+?
Do you want to know what we did for Toki Tori 2+? Check out this blog:
http://twotribes.com/message/toki-tori-2-a-big-plus-on-steam