We are happy to announce that we will soon publish three high quality indie titles: EDGE (Steam), Swords & Soldiers (iPhone/iPad) and Frenzic (DSiWare).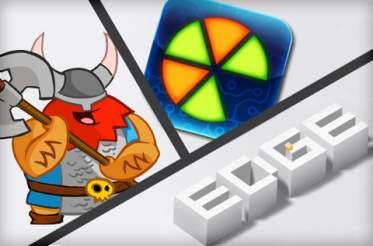 Last year we founded a new company, Two Tribes Publishing, which will primarily focus on funding development and publishing games for digital download services. Not only will we focus on funding development of our own titles, we will also actively look for other IPs to acquire, convert and publish on other platforms.
Basically what we do, is to look at underexposed high quality indie games out there, who haven't reached the wide audience they deserve. We will contact those developers to see if we can help them to bring their IPs to other platforms. Our development studio has a lot of experience on a broad number of platforms, so for us it could be relatively easy to convert a game for platform A to platform B. And this is where we feel our added value lies. So if you have a cool concept and want to bring this to another platform to reach a wider audience, don't hesitate to contact us!
Now on to our initial lineup:
EDGE
Created by Mobigame, this award-winning platformer has been a big success on the App Store. We will bring this game to Valve's download service Steam. At the moment we are also considering WiiWare and DSiWare.
The original EDGE for iPhone: http://www.youtube.com/watch?v=i_aB_ZkonGw
Swords & Soldiers
Originally made by our Dutch game development friends Ronimo, it was launched on Nintendo's WiiWare service and received very high Metacritic rankings. We strongly feel that a game like this will work great on an iPhone or iPad. More details on this game will follow soon.
The original Swords & Soldiers for WiiWare: http://www.youtube.com/watch?v=r3KCY8GYGNs
Frenzic
This fast paced, addictive puzzle game is very easy to pick up and play. Developed by The Iconfactory, it was one of the earlier successful games on the App Store and it received high ratings. We feel DSiWare is an excellent fit for this game. At this moment Frenzic for DSiWare is in Nintendo's LOT check, and it will be released this autumn.
The original Frenzic for iPhone: http://www.youtube.com/watch?v=_O0yY4WV7_g
Stay in touch for more information on these titles!