Swords & Soldiers HD for Wii U is out now in both Europe and the Americas!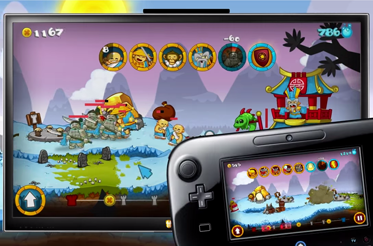 Command an army of Vikings in their quest to create the ultimate BBQ sauce, lead the Aztecs in defense of the Holy Pepper and build an array of explosive Chinese toys! Build your own forces and defeat your foes using berserkers, dart blowers, giant boulders, ninja monkeys (yes, – ninja monkeys!) and many more!
Swords & Soldiers was fellow Dutch developer Ronimo Games' debut Wii game. It became one of the early indie classics on the system and stands the test of time extremely well.
We've teamed up and upgraded it so it feels right at home on Wii U! It's still as fun as ever, but now also makes use of the Wii U GamePad and HD capabilities of the system. The game will launch for just $2,99 / €2,99
Without further ado, here's what we'll be offering.
The classic Swords & Soldiers experience.
Playable with custom touch scheme on Gamepad.
Playable with Wii remote on TV.
Multiplayer mode combining GamePad and TV.
High res HD graphics compared to SD Wii release.
The ultimate BBQ sauce.
Launch Trailer

Screenshots