Indies are promoting each-other on Wii U eShop!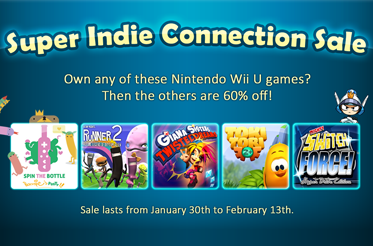 We've teamed up with four other independent developers to offer our WiiU games with a very special deal on the Nintendo eShop!
If you buy one of the participating games, or, even better, already own one of those games, you will get a 60% discount on all the others. So if you already own Toki Tori 2+ any of the other games will be 60% off as a reward!
The games are our own Toki Tori 2+, Mighty Switch Force by WayForward, Runner 2 by Gaijin Games, Spin the Bottle: Bumpie's Party by Knapnok Games and Giana Sisters: Twisted Dreams by Black Forest Games. The promotion runs concurrently at both the North American and European eShops and runs from January 30th until February 13th.
To celebrate, we decided to make tiny videos to promote each other's games.


Black Forest Games presents Mighty Switch Force


WayForward presents Spin the Bottle


Knapnok presents Runner 2


Two Tribes presents Giana Sisters


Gaijin Games presents Toki Tori 2+