During last month's PAX East in Boston we got to present a playable RIVE demo that clearly showed our vision for the game. People loved it, we were psyched, but we also know many gamers didn't make it to PAX, so here's a recap of what happened.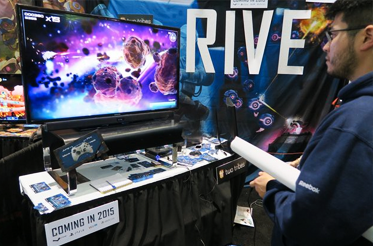 On the right you can see someone playing the game at our Booth. We decided to go for one really big TV and a second demo-station out of view for people who didn't want to be in the spotlight. It worked out well, and because of Martijn's really enthusiastic flyer-ing, we were packed the full three days!
So what did we make, you ask?
Well, we like to call the RIVE demo a 'trailer' for the full game, since it condenses the action and gameplay variation of the full game into a 15 minute demo without giving away too many spoilers.
First off, let's show a play-through by YouTuber AlChestBreach, so you all know what the demo entails.

During the convention it became apparent that RIVE scratches a nostalgia itch that many gamers have. We usually name Megaman and Gradius as inspiration, but for others it reminded them of Blaster Master, Raiden or games we never heard of before, such as Abuse. Regardless, it's the same itch we have, so it was great to see that gamers responded well to it.
While PAX is a show for gamers, it also attracts a lot of press, eager to write about new games. Here's a few of our favorite write-ups.
"RIVE was my favorite twin-stick shooter at PAX East" - Rob Morrow of Destructoid
Rob is a big fan of RIVE, and he expressed his love in a flattering article over at Destructoid. We especially got excited when he wrote "RIVE just does so many things right you'd think its creators had been designing shooters all along".
"Four games we loved at PAX East" - Gamespot
The editors at GameSpot checked out countless indie games at PAX and decided that RIVE was one of their favorites from the show floor. The other games in their Four games we loved at PAX East video are also well worth your attention."
"[RIVE] excites me, as it should all gamers." - Trevor Gould of Pure Nintendo
RIVE graced the cover of Pure Nintendo magazine a few months back, but it wasn't until PAX that they had the chance to go hands on and write a report.
All this positive feedback has strengthened our belief that there is a large group of gamers out there looking for something like RIVE, even though it's totally different from what we've made before!
:)