We're nine days away from our planned submission date to Nintendo for the Wii U version of Toki Tori 2. Here's my attempt at trying to convey what it's like.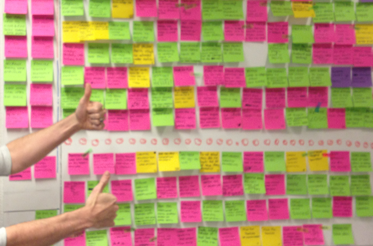 I am dead tired. I feel it in every part of my body. My life has been focused on Toki Tori 2 non stop for the past four weeks or so. I hate that it has come to this again, but this is also my favorite part of a game's development: the part where everything comes together! It's amazing how much love and passion is being put into Toki Tori 2 by everyone at the moment.
Still… we've got a boatload of loose ends we need to tie up and today we attempted to get a good idea of where we are at with the game. We spent two hours with everyone playing the game on Wii U development kits, and below, Hessel proudly presents the resulting tasks.
We decided that we were going to drop some of the guidelines of Scrum in order to get more time on the game and that we were going to focus on getting as many of the smaller tasks out of the way first. Oh and the red line in the middle is indeed made up out of little Berrybugs. It's the line between what we need to get done in order to ship the game and what's optional.
I'm going to try and find half an hour each day from now on to fill you in on what's happening. I may take a few shortcuts, and let photographs do the talking, I hope you won't mind.
Here's to the next eight days!