Announcing the winner of round 3 and we're back with the final round of the drawing contest! This is your last chance to show us your drawing skills and make a chance to win a spot in Toki Tori 2!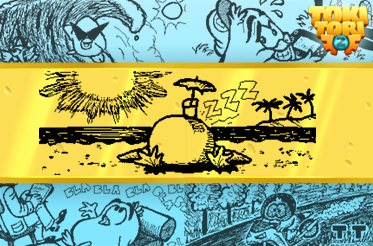 In the previous rounds, we've seen a lot of really awesome drawings. Round 3 hasn't been an exception. So once again, thank you for all your amazing efforts and for showing us how Toki Tori spent his day off!
The winner of the third round:
Maribeck with "ZZZ"
Congrats to you! Your drawing will be forever part of video gaming history, as we'll be adding it to Toki Tori 2!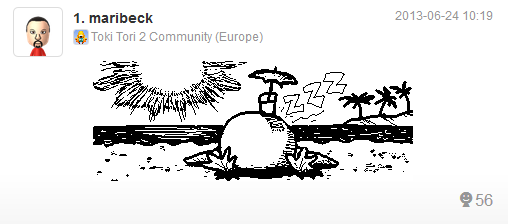 Warning: lazy chicken ahead

Toki Tori couldn't be more relaxed! It actually took us quite some effort to convince that lazy chicken to get back to his adventure! Toki Tori asked us to thank Maribeck for the cocktail, he really enjoyed it!
Round 4
Did not win? Or missed the first three rounds? No worries as you still have a chance to get your drawing in Toki Tori 2! Here's the last and final topic:
As you might know, the island of Toki Tori 2 is filled with peaceful and happy creatures. But not all is as it seems… There are some pretty unfriendly creatures out there as well. In the first round we asked you to draw Toki Tori's imaginary friend, so now it is time to…
"Draw Toki Tori's greatest enemy!"
This week's Top 25 drawings (updated every 30 minutes)
Contest Rules
Want to participate? Check out the contest rules. Due to the sheer volume of entries, we'll now pick a winner of the Top 25 of all entries, as opposed to the Top 10 as we did in the first round. So if you make it to the Top 25, your drawing might end up as the final drawing that we add to Toki Tori 2!
Summing up
Draw Toki Tori's greatest enemy
Post it on the Toki Tori 2 community on Miiverse
Reply to your own drawing with the text: #contest
Collect a LOT of Yeah's for your drawing to get into the Top 25
We will announce the winner of the fourth and last round on July 4th, so be sure to post your drawing before that.
Happy Drawing!
Please note: by entering this drawing contest, you are granting us (Two Tribes) a non-exclusive perpetual license to use, reproduce, alter and/or change your submitted contest artwork. Thou shalt not sue us! Also we reserve the right to refuse contest entries, for no specific reasons.