For this blog entry, I will give you an insight into the steps we took to get to the look and feel for RUSH!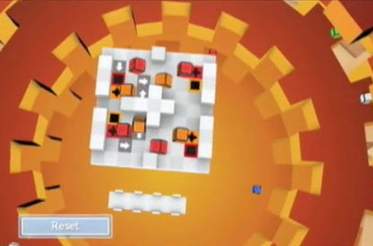 As some of you may know, RUSH actually started life as a game mode called 'Guide' in a retail Wii game called Rubik's Puzzle World. We picked this concept as the basis for the first title in the Rubik's Puzzle Galaxy series for WiiWare. So let's start with a screengrab of that part of the game.
We're in agreement that it's not much to look at. The 'Guide' mode was one of the 16 puzzle concepts we needed to create in a relatively short time-frame. Looking back, making so many puzzle games has definitely impacted the overall quality and polish we could afford on that game. So you can understand why we wanted to leave this behind and really take a different approach to designing the look and feel for RUSH.

The result is the concept art above, which we were really happy with. We wanted to make something classy, something stylishly minimalistic, something as far removed from the overkill of color that the Rubik's Cube itself represents.
So we started implementing this look; we made a background constructed of disconnected cubes, added a more stylish and less checkerboard-like grid pattern and changed a lot of little things, but it just didn't feel right when playing the game. The reason is pretty apparent when you think about it, but let's just visualize to really get the message across: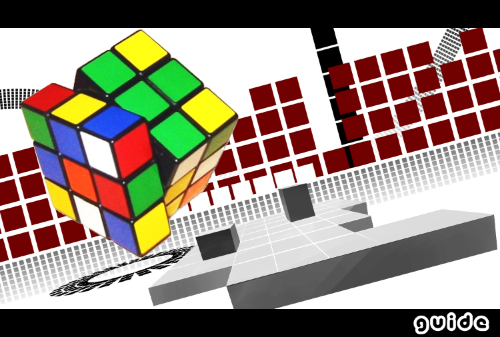 It turns out that it's pretty much impossible to create something minimalistic when you're dealing with a toy whose design sports a collection of all available primary colors. Who would have thought ;)
After this realization, we decided to embrace the colorful nature of the Cube instead of fighting it. To streamline the design we made the background more colorful, while making the cube a bit more stylized by adding a nice specular sheen and by only using straight lines for its textures.
Add in some real-time shadows, a closer camera angle and anti-aliasing and you've got the look we're shipping RUSH with later this week!