Here you go: a Christmas card from Two Tribes! The year 2010 has been great for Two Tribes: bringing Toki Tori and our new game RUSH to Steam and publishing indie classic Frenzic on DSiWare.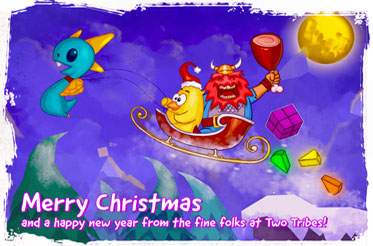 We've got a number of great games lined up for next year: *project unknown* (iPhone), EDGE (Steam), Swords & Soldiers (iPhone/iPad), Toki Tori (iPad, Mac App Store)! Feel free to check out the attached Christmas card to see if you can discover any hidden secrets :)
We are looking forward to another great year and hereby wish you a merry Christmas and a happy new year on behalf of all the natives at Two Tribes!