This is your chance to make something that will be forever part of video-gaming history! We're organizing a Miiverse drawing contest, and the best news is that we'll place the winning drawings in Toki Tori 2!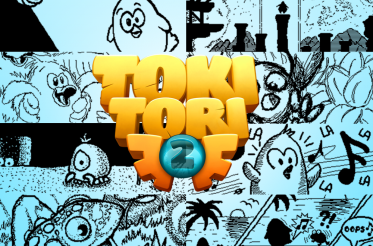 Since the release of Toki Tori 2 on the Wii U eShop, we've seen a huge number of really awesome drawings on Miiverse. It really surprises us that people are able to create such detailed and fine artwork with little more than a simple stylus and black and white 'colors'. Some drawings must've taken hours to create, so we felt we had to come up with something to reward such amazing devotion.
While playing Toki Tori 2, some of you might have noticed there are hidden cave drawings. These drawings were most probably made by ancient Tori's, thousands of years before our little hero Toki ever hatched from his eggshell. While looking at these drawings, we came up with this idea to turn Miiverse drawings into cave drawings!
Scroll down to read the contest rules!
[Update: June 12, 2013]
The winner of the first round is…. roll the drums…. Fredrik.W with cousin "Toki Torro"! Congrats! Cousin Torro will be forever part of Toki Tori 2!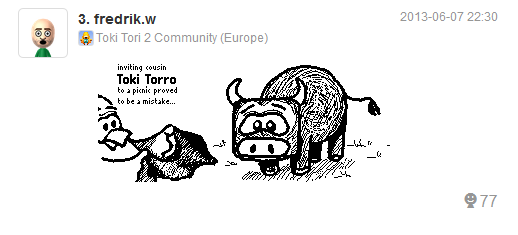 The final Top 10 entries, including the winning entry: cousin "Toki Torro"
The Contest Rules
Obviously we can't simply place each and every drawing in Toki Tori 2, so that's why we're having a contest to pick the winners.
Four winners!
In total we'll pick four drawings, one per round. Each round will last a week and will cover a specific topic, for instance: "draw an old Toki Tori" or something similar. We will only accept drawings that are based on the weekly topic.
How do I enter?
Entering the contest is really easy. All you need to have is a Wii U and access to Miiverse. Go to the Toki Tori 2 community on Miiverse and make a drawing based on the weekly topic. After you finished your drawing, post it to Miiverse and reply to your own drawing with the following text:
#contest
It's that simple! Our high-tech team of Miiverse scanning monkeys will automatically pick up your drawing and will add it to the list of entries:
http://2trib.es/tokitori2_drawing_contest
You can make as many drawings as you like! Your imagination is the only limiting factor!
How do I win?
Collect as many Yeahs as possible to make it to the Top 10. From this Top 10 will pick a winning drawing that will be added to the game. So even if you drawing skills aren't perfect, you still have a chance to win!
Round 1 (now closed!)
Enough talking, let's head to this week's topic:
Toki Tori often wonders around in the forest all by himself. And quite honestly, he sometimes feels alone…
"Can you draw an imaginary friend for Toki Tori?"
Summing up
- Draw an imaginary friend for Toki Tori
- Post it on the Toki Tori 2 community on Miiverse
- Reply to your own drawing with the text: #contest
- Collect a LOT of Yeah's for your drawing
We will announce the winner of the second round on June 12th, so be sure to post your drawing before that.
Please note: by entering this drawing contest, you are granting us (Two Tribes) a non-exclusive perpetual license to use, reproduce, alter and/or change your submitted contest artwork. Thou shalt not sue us! Also we reserve the right to refuse contest entries, for no specific reasons.