We had hoped to be able to put the finishing touches on the third build last week, but things did not go according to plan. At all!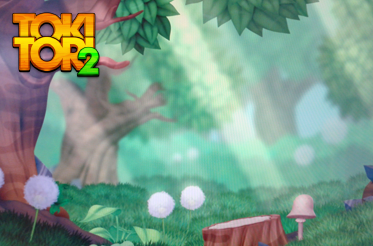 We had set out to create a build with multiple moving creatures and gorgeous backgrounds to give you all a better idea of how lively the game world in Toki Tori 2 would feel when it would be finished.
Below is an overview what would have been and what we ended up with.
Creatures that move, fly and pathfind their way through the game world
Visualize Forest, Cave and Temple environments
Add creature-library to in-game editor
Design 6 3 conceptual levels & dozens of tutorial sections
There are several reasons for this. One is the chronic optimism that most humans suffer from, which as usual has led to a delay. This was most apparent with the two environments we ended up… not making. The forest background is pretty beautiful, but one out of three is a bad score. The cave environment will be finished, but the temple is for now on hold until we know more about it.
The code for the creature movements, which is all new for Toki Tori 2, was also much more complex than we had anticipated, leading to only simplified movements making it into the game. If that wasn't enough, we also had an unexpected delay, where most of the team had to work on new achievements for Toki Tori, EDGE and RUSH.
Anyway, on to the better news! We'll be sending over a new build soon. It will not have everything we planned, but you will at least see the progress that has been made and you will be able to toy around with the new creatures!
Last but not least, we failed to keep you up to date on what was going on. Hope you didn't worry too much!